You get what anybody gets – you get a lifetime.
― Neil Gaiman, Sandman Vol. 1

Hello my friends,
Thank you to everyone who's reached out to let me know how they're doing, and of course it's so awesome to see some of you at Zoom practices. For anyone waiting on videos, that is still in the works. Currently I'm waiting on a computer repair, but don't worry, I can use Brett's machine for classes this week.
If you have any questions, or there's anything I can do for you please reach out.
Much Love,
Elle
Schedule for Week of Dec. 6th
Contact me with any questions!
Monday
8:15 am All Levels – Infinity Yoga
Wednesday
7:45am Yoga with Elle Zoom Class
6pm All Levels – Root River Zoom
Thursday
7:15am All Levels – Root River Zoom
Friday
7:45 am All Levels – Infinity Yoga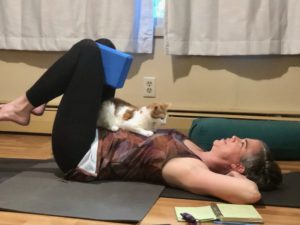 As always, these are shared with you under the category "pay what you can, if you can." Here's the link to PayPal your support: https://www.paypal.me/ElleNewman11
Root River Yoga on Zoom
Consider joining me and a great group of students for a Root River class and support an amazing studio that serves rural SE MN. Register for classes and learn more about Root River Yoga here.
Wednesday
6:00-7:00pm All Levels
Thursday
7:15-8:15am All Levels
*You're invited to stay online after class for coffee/tea and a chat.
Ways to Keep Connected