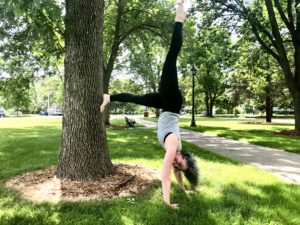 Elle came to yoga as a non-athletic nerd with a mediation practice. By the time she was 30, her health was suffering and her back was in almost constant pain. It became obvious she needed to take care of her body as well as her mind and spirit.
Now Elle brings more than a decade of experience teaching yoga to her classes, as well as a sense of humor and an ability to work with a variety of student's needs. Her trainings include 200 hours of Vinyasa Yoga training. Forrest Yoga Advanced Teacher Training. She also has specialty trainings in: Yoga for Back Care, Pre-natal Yoga, and Yoga for Seniors.
Elle teaches a variety of classes from challenging Forrest Inspired Vinyasa classes to Gentle Yoga. She also works with individual students to help them deepen their practice. Her own practice includes Forrest Yoga, Yin, Vinyasa, Pranayama, mindfulness, and SomaYoga.