Happiness, not in another place but this place… not for another hour, but this hour."
~Walt Whitman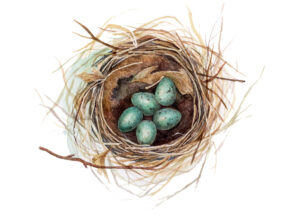 Hello,
I'm reusing this image because it reminds me of the nest I found in our shed. Except that one was tucked deep inside an empty flower pot, and I found it impossible to get a good picture.
Some of you have asked about Wednesday outdoor classes this year and I didn't have a firm answer until recently. I finally decided I'm not teaching an outdoor class this summer. It was a hard decision to make because I have enjoyed the time with you so much in the past. I know some of you will be disappointed, and I'd avoid that if I could. Between the time I need to take for my own physical therapy and projects I'm hoping to finish this summer, I am finding my mornings are quite full. In fact, you've probably noticed I have had trouble getting back into the habit of regular newsletters! I do plan to keep the classes I am already teaching, perhaps with a few subs when I need them.
Below you will find our schedule, which isn't changing. Please note there's no Infinity class on Memorial Day, May 30th.
Much Love,
Elle
Schedule
Contact me with any questions!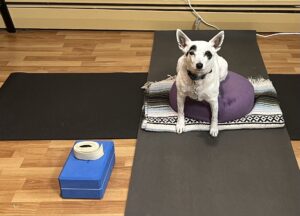 Fridays
7:45am (Moves to 8:15 on April 1st) Forrest Inspired Vinyasa – Infinity and Zoom. Bring blanket or pillow if practicing on Zoom.
Mondays
8:15-9:10am Forrest Inspired Vinyasa – Infinity and Zoom
(No Class Memorial Day)
Thursdays
7:15am Forrest Inspired Vinyasa – Root River Zoom
Root River Yoga on Zoom
Consider joining me and a great group of students for a Root River class and support an amazing studio that serves rural SE MN. Register for classes and learn more about Root River Yoga here.
Lets Stay Connected