What is easy is sustainable. Birds coast when they can.

― Adrienne Maree Brown, Emergent Strategy: Shaping Change, Changing Worlds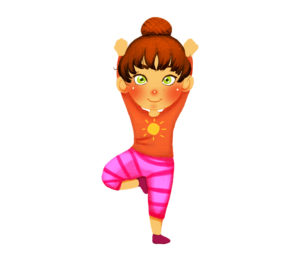 Hello Everyone!
Newsletters are back, and taking my own advice, or more accurately Adrienne Maree Brown's, I'm going to keep this easy.
While there wasn't excitement about online practices on Wednesday, there were requests for more outdoor yoga even though it's getting cooler. So me and anyone game are going to dress in layers, bring our blankets, and meet at Sinclair on Wednesday at 8:15am!
As always reach out if there's anything I can do to make your practice better.
So much Love,
Elle
Schedule for Week of Oct. 12th
Monday
8:15 am All Levels – Infinity
You need a confirmation from me that you are registered. Spaces are limited.
Wednesday
8:15am Yoga with Friends – Sinclair Park
6pm Yin Yoga – Root River Zoom
Thursday
7:15am All Levels – Root River Zoom
Friday
7:45 am All Levels – Infinity
You need a confirmation from me that you are registered. Spaces are limited.
Yoga Videos and Meditation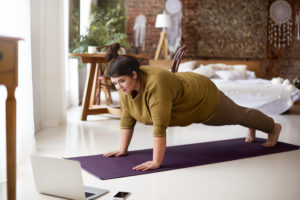 As always, these are shared with you under the category "pay what you can, if you can."
Here's the link to PayPal your support: https://www.paypal.me/ElleNewman11
Things to know about Yoga with Friends Outside: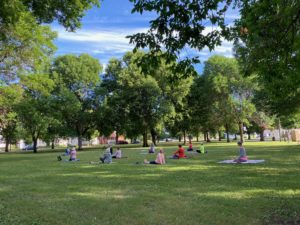 It's getting chilly, dress in layers, maybe bring a cap for your head and a blanket for under the mat… and maybe an extra one for over you during savanna.
If you have trouble hearing please set up close (but still 6 ft away) to me.
Wear a mask for socializing before and after class. Remember to social distance.
Bring your mat and a block or a blanket if you have them.
Root River Yoga on Zoom
Consider joining me and a great group of students for a Root River class and support an amazing studio that serves rural SE MN. Register for classes and learn more about Root River Yoga here.
Wednesday
6:00-7:00pm Yin Yoga
Thursday
7:15-8:15am All Levels
*You're invited to stay online after class for coffee/tea and a chat.
Ways to Keep Connected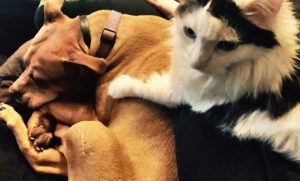 Tips for Practicing At Home
Create a space for yourself, but don't get bogged down in creating a perfect space for yourself.
Put your class on the calendar. Make space in your day.
Make it special for yourself. Maybe this means putting on your favorite fancy yoga pants, maybe this means you finally get to practice in your pjs.
Reach out to me if you get stuck.